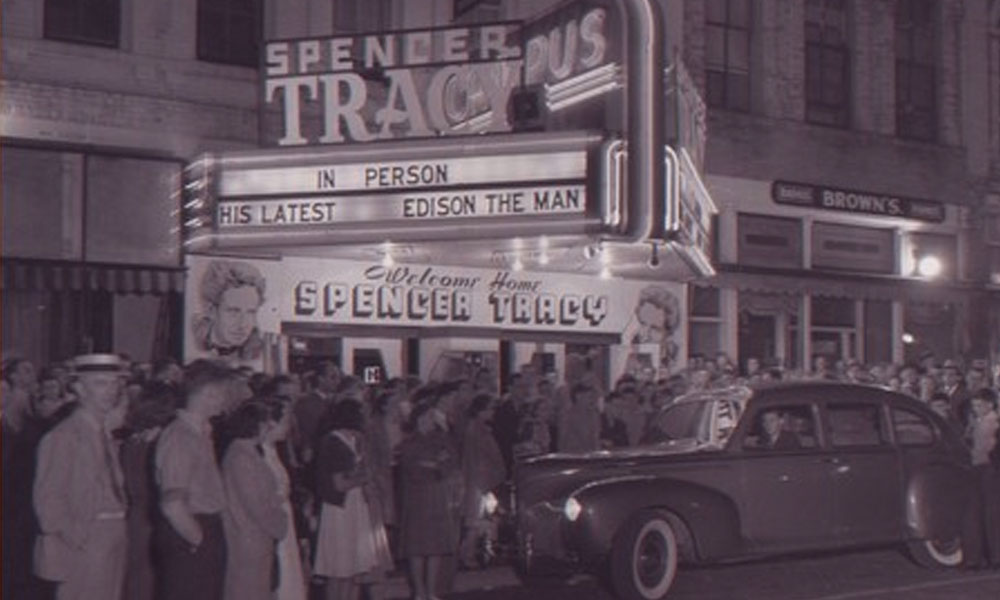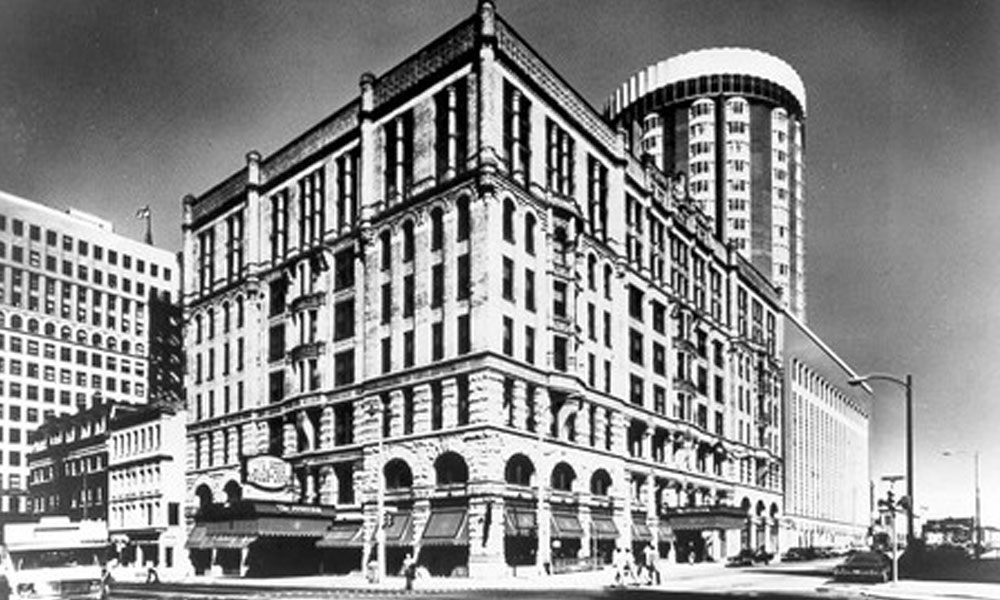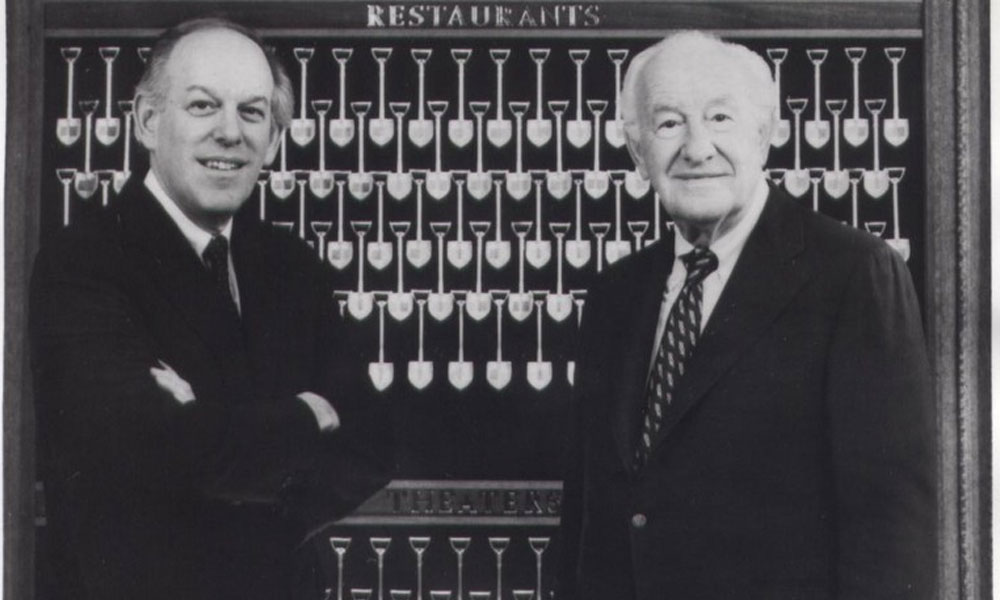 Celebrating our Past

– Building our Future
The Marcus Corporation (NYSE: MCS), headquartered in Milwaukee, Wisconsin, was founded on November 1, 1935 by Ben Marcus, with the purchase of a single movie theatre in Ripon, Wisconsin. Today, The Marcus Corporation is a leader in the lodging and entertainment industries with two divisions, Marcus Theatres® and Marcus® Hotels and Resorts.
1935

Ben Marcus opens his first movie theatre in Ripon, Wis. on November 1.

1949

Marcus Theatres opens its first drive-in movie theatre.

1958

Marcus Theatres operates 36 theatres and has 900 employees.

1958

First Big Boy restaurant opens in Milwaukee; restaurant division ultimately includes Kentucky Fried Chicken, Captain's Steak Joynt, Applebee's and others; company exits restaurant business in 2001.

1962

Ben Marcus purchases The Pfister Hotel in Milwaukee out of bankruptcy; Steve Marcus joins the company as Pfister GM.

1972

All businesses are brought together under The Marcus Corporation umbrella; company goes public.

1972

Company purchases the Sheraton Schroeder Hotel in Milwaukee, now the Hilton Milwaukee.

1974

First Budgetel Inn opens in Oshkosh, Wis.; concept developed by Steve Marcus.

1992

Greg Marcus joins the company.

1993

The Marcus Corporation moves to the New York Stock Exchange.

1993

Marcus Theatres expands outside of Wisconsin; enters Chicago market with new theatre in Gurnee, Ill.

1993

Marcus Hotels purchases the former Playboy Club in Lake Geneva, Wis.; now the Grand Geneva Resort & Spa.

1999

Marcus Theatres unveils its first UltraScreen® premium large-format screen.

2001

Marcus Hotels opens the new Hilton Madison Monona Terrace in Madison, Wis.

2004

Limited-service lodging division, including Baymont Inns & Suites (formerly Budgetel), sold for $415 million.

2005

Marcus Hotels opens new Chicago hotel, now the AC Hotel Chicago Downtown; purchases the Wyndham Hotel in Milwaukee, now the InterContinental Milwaukee.

2006

Company returns $215 million to shareholders from the sale of the limited-service lodging division as a $7 per share special dividend.

2006

Marcus Hotels opens the Platinum Hotel & Spa luxury condominium property in Las Vegas.

2007

Marcus Hotels, in partnership with Skirvin Partners in Development, opens the restored Skirvin Hilton hotel in Oklahoma City.

2007

Marcus Theatres acquires 11 locations with 122 screens in Minnesota, North Dakota and Iowa.

2007

Marcus Theatres installs its first Digital 3D system.

2007

Marcus Theatres unveils its signature Majestic Cinema in Brookfield, Wis. with new food and beverage concepts including Zaffiro's® pizza, Take Five℠ Lounges and Big Screen Bistro℠ in-theatre dining.

2008

Marcus Theatres acquires seven locations with 83 screens in Nebraska.

2009

Greg Marcus elected CEO; Steve Marcus continues as chairman.

2010

The Marcus Corporation celebrates its 75th anniversary with associate volunteer campaign, black-tie gala and $75,000 donations to the United Way, United Performing Arts Fund and Variety, the Children's Charity. Board members and executives ring the Closing Bell at the NYSE.

2011

Marcus Theatres deploys digital cinema, branded MDX® (Marcus Digital Xperience®), at virtually all screens.

2011

Miller Time® Pub & Grill restaurant concept debuts at the Hilton Milwaukee; joins ChopHouse, Kil@Wat® and Mason Street Grill® internally developed brands.

2012

Marcus Hotels becomes majority owner and manager of the Cornhusker Hotel in Lincoln, Neb.; now The Lincoln Marriott Cornhusker Hotel.

2013

Rolando B. Rodriguez appointed president and CEO of Marcus Theatres and Executive Vice President of The Marcus Corporation. He succeeds Bruce J. Olson, who retired after a 39-year career with the company.

2013

Marcus Theatres launches successful $5 Tuesday promotion – the start of its focus on special promotions to drive attendance.

2013

Marcus Theatres begins a multi-year program of major investments to transform existing theatres; introduces DreamLounger℠ recliner seating and UltraScreen DLX® (DreamLounger eXperience) and SuperScreen DLX® auditoriums; expands food and beverage concepts to more locations.

2015

Marcus Theatres' Magical Movie Rewards℠ loyalty program reaches one million members within its first year.

2015

Marcus Theatres opens the Marcus Palace Cinema in Sun Prairie, Wis. featuring a fresh new design and the latest features and amenities.

2015

Marcus Theatres introduces Reel Sizzle® concept inspired by iconic diners of the 50s featuring burgers, ice cream and shakes.

2015

Company purchases the SafeHouse® iconic spy-themed restaurant and bar in Milwaukee; further expansion planned.

2015

Fiscal year-end changed to last Thursday in December.

2016

Completely renovated Country Club Hills Cinema opens in Illinois; 6th location in greater Chicago.

2016

Marcus Theatres acquires the Wehrenberg Theatres chain with 197 screens at 14 locations in four states. Expands presence into the greater St. Louis area.

2017

Marcus Hotels opens second SafeHouse® spy-themed restaurant and bar in Chicago.

2017

Marcus Theatres opens Southbridge Crossing Cinema in Shakopee, Minn., company's 11th theatre in Minnesota.

2017

Marcus Theatres opens first BistroPlex℠ "restaurant that serves movies" in Greendale, Wis.

2017

Omaha Marriott Downtown at the Capitol District opens in Omaha, Neb., managed by Marcus Hotels.

2017

Marcus Hotels & Resorts assumes management of the Sheraton Chapel Hill Hotel in Chapel Hill, N.C.

2018

Marcus Hotels & Resorts assumes management of The Murieta Inn and Spa in Rancho Murieta, Calif.

2018

Marcus Hotels & Resorts assumes management of the DoubleTree by Hilton Hotel El Paso Downtown and Courtyard by Marriott El Paso Downtown/Convention Center in El Paso, Texas.

2019

Marcus Theatres acquires the Movie Tavern circuit with 208 screens at 22 locations in nine states. Increases footprint by 23% nationwide.

2019

Marcus Hotels & Resorts assumes management of the Hyatt Regency Schaumburg in Schaumburg, Ill.